Remote Assistance in XP
This Guide Note will explain how to use "Remote Assistance" in Windows XP. You can invite a trusted expert to connect to your PC over the Internet to help with problems you may be having. The expert can (with your permission) take control of your mouse and keyboard to operate your machine remotely, allowing accurate diagnosis of problems. You can end the session at any time.
Let's get started...
Your Network Connection
If you connect to the Internet via a device (a "modem") that is powered only from your PC, the chances are that there won't be any problems connecting, although we may need to talk you through adjustments to your security software if you have an extra "firewall" running.
If you connect to the Internet via a device which needs its own power lead (e.g. a wireless router), then the chances are we will need to change the settings on that device to allow the connection. Tell us the make and model of the device, and we'll be able to advise.
Your Computer Address
Every computer has an "IP address". Think of this as something like a phone number, but may change frequently. WalthamSoft will need to know your computer's current IP address.
The easiest way to find out what it is is to visit this site which will display your "IP" in four groups of large numerals. As your "IP" may change every time you go online, it's vital to check again if you renew your connection to the Internet. Make sure you let us have the current address numbers.
System Check
It's worth checking beforehand that your PC is configured correctly (most already are).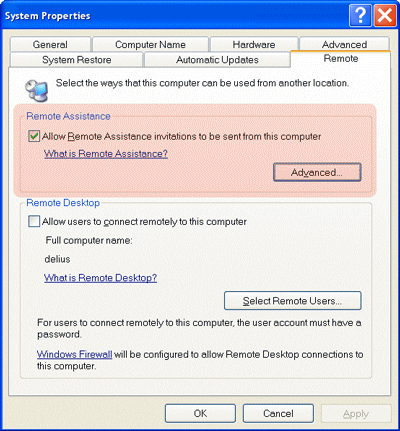 Either:
Click Start, Control Panel; Choose the Performance & Maintenance category and click the System icon, or:
Right-click the "My Computer" icon on your desktop or in Windows Explorer, and pick "Properties" from the menu).
Either route should bring up this dialogue:
Then select the tab labelled Remote. Check the settings are the same as the ones highlighted here.
Then click the "Advanced" button to see a further dialogue (see below).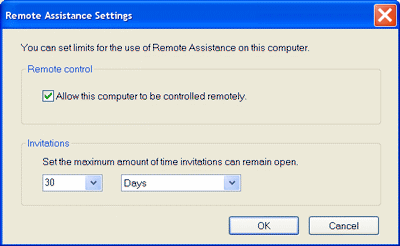 Check your settings match the ones shown here.
Ok? Now you're ready to start.